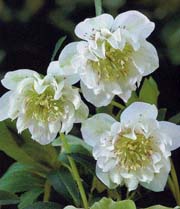 Hellebores are a great addition to the shade garden:
Bloom in the winter.
Not palatable to deer or rabbits.
Can be grown in bright shade or morning sun.
Are fairly drought tolerant once established.
Foliage: Semi-evergreen, glossy, dark green. Cut foliage back in February or March, once flowering starts, to make way for blooms and new growth.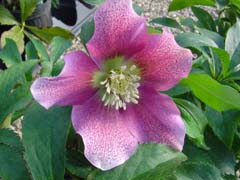 Blooms: 2-3" single-rose like blooms in shades of pink (from white, to white with red/maroon spots, to pink, to burgundy, to almost black). Varieties with double blooms are also available. (Much breeding has been done on Hellebores recently, expanding the color range.) All blooms fade to chartreuse.
Bloom period: Late winter to early spring.
Plant height: 12" – 18".
Spacing: Plant 24" apart
Native to: Europe / Asia Minor
Notable: Gently re-seeds
A quick tip: Hellebores grow in the cool months – late-September to December and again mid- February to early June. So feed them in the early part of fall and again late winter.
A Hellebore bed in March, before grooming (left) and five minutes later, after grooming (right).
Variety Spotlight #6, 2/8/2014 © Hilltop Farm